Purchase Algorithm
The purchasing algorithm allows you to set a rule by which the program will automatically purchase cryptocurrencies.
Crypto Trade Studio updates the charts of all cryptocurrencies every 5 minutes. When it happens if there are coins that match the buying algorithm, and if the algorithm is active, these coins are automatically bought and displayed in the Trade Monitor.
To change the algorithm settings proceed as follows:
From the "File" menu select "Trade Monitor Settings"

A Trade Monitor settings mask will appear.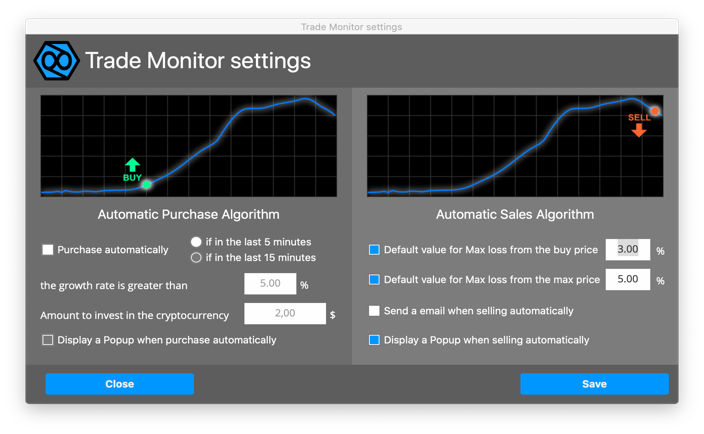 On the left side are the settings for "Automatic Purchase Algorithm"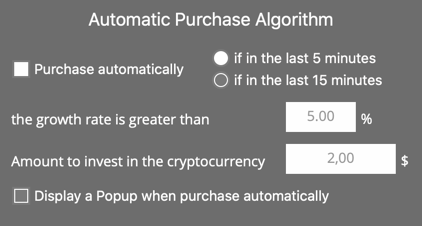 The "Purchase automatically" checkbox determines whether the algorithm is active or not. In practice it indicates whether or not to buy automatically. If this is active then the program will compare the status of each cryptocurrency with the rules set below.
The two options "if in the last 5 minutes" or "if in the last 15 minutes" indicate to the program whether the trend of cryptocurrencies in the last 5 minutes or in the last 15 must be monitored.
The text field to the right of the entry "the growth rate is greater than" indicates the percentage with which the program compares the trend of the currency. If the trend is greater than or equal to the set value then the program will purchase the cryptocurrency.
The text field to the right of the entry "Amount to invest in the cryptocurrency" indicates the amount to invest when the program will purchase automatically.
The "Display a popup..." checkbox will enable the display of a popup at the time of automatic purchase.